A long time ago we were in Australia to study and research. It was a fantastic time, which has probably made a greater impression on us, than we would admit at the time. We have since talked about returning to Australia, when our children grew old enough. Now is that time, and thus we have realised this dream.
University of Copenhagen has newly started an exchange program with University of Sydney, and as both universities work on the ATLAS experiment at CERN, we applied for collaborating on the subject. Here is the result:
LetterOfAward_VarvellPetersen.pdf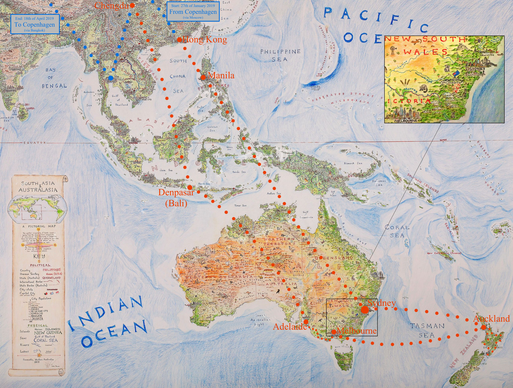 Weekly logs:
Below we have tried to describe our trip, and the word "weekly" should be taken very lightly, as it will simply be updated when suitable, and when time and place allows for it.

Hong Kong

Manila

Sydney (week 1) - Freshwater

Sydney (week 2) - Bronte

Sydney (week 3) - Edgecliff

Sydney (weekend) - Blue Mountains

Sydney (week 4) - Dee Why

Sydney (week 5) - Freshwater

Sydney (week 6) - Freshwater

New Zealand

Melbourne

Great Ocean Road, The Grampians, and Adelaide

Bali

Chengdu
The route:
The route naturally follows the path to Sydney (and also work in Melbourne and Adelaide), with short stopovers in:

Hong Kong (visiting old friend, Loan)

Manila (barely a touch down!)

Sydney (living and working for two months)

New Zealand (North Island by campervan)

Melbourne (working with Peter Skands)

Adelaide (working with Paul Jackson)

Denpasar, Bali (short vacation en route)

Chengdu (Tina's brothers wedding party)